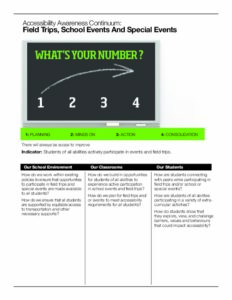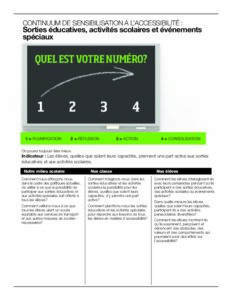 Field Trips, School Events and Special Events
What's Your Number?
There will always be scope to improve
Indicator: Students of all abilities actively participate in events and field trips.
Our School Environment
How do we work within existing policies to ensure that opportunities to participate in field trips and special events are made available to all students?
How do we ensure that all students are supported by equitable access to transportation and other necessary supports?
Our Classrooms
How do we build in opportunities for students of all abilities to experience active participation in school events and field trips?
How do we plan for field trips and/ or events to meet accessibility requirements for all students?
Our Students
How are students connecting with peers while participating in field trips and/or school or special events?
How are students of all abilities participating in a variety of extra- curricular activities?
How do students show that they explore, view, and challenge barriers, values and behaviours that could impact accessibility?